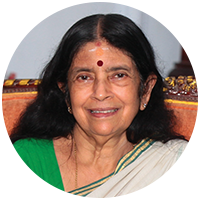 Her highness Aswathi Thirunal Gowri Lakshmi Bayi
SUT, has been functioning in what was the old Pattom palace in the hospital city of Trivandrum. This hospital has many achievements to its credit. It has a group of dedicated personnel consisting of nurses, technicians, paramedical staff, and administrative staff, all working together as a family with the CEO Col Rajeev Mannali. I have myself been a patient at SUT two times, once for surgery and once due to fever. And my experience here has been very satisfactory. The feedback I have received from many people is that "It's not just the treatment but the personal touch of the non-treating staff which is also very very important, like the administrative staff, PROs, the nursing superintendent. For many people it has been a comfortable experience.As long the need for medical treatment exists, may this hospital serve the people with dedication, devotion and satisfaction to whatever extent possible.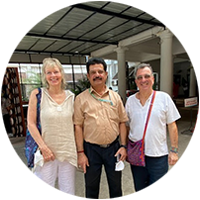 Linda Nicholls
Canada
Iam a Canadian who has been visiting India for the first time. When I was told that I had to go to the hospital in Trivandrum, I was anxious about going to an unfamiliar hospital in a country that is new to me.
I have now been to the hospital several times and each time I have been beautifully taken care of in every way.
Over the course of my time there I had the privilege of interacting with several physicians, technicians, and staff, especially in the Emergency, Gastroenterology, and CT Scan departments.
All of my concerns about being treated in an unfamiliar hospital within an unfamiliar system in an unfamiliar country using an unfamiliar language have evaporated. The hospital
Ambassador, Balachandran, has been extremely helpful and I am profoundly grateful for the remarkable care I have received at SUT hospital.
Due to a serious illness that I had in the past few years at home in Canada I have seen many physicians and had many hospital and staff experiences so I am aware of medical care standards. I'm positively impressed with the skill, knowledge and warm, caring manner of each of the physicians that treated me in the Emergency, as well as the gastroenterologist
Dr.Subhash, Dr. Janet, and staff at SUT.
If I had not had the privilege of being taken care of in such a prompt and thorough way my month's stay in India might have been ruined.
My heartfelt thank you to each person involved.
With gratitude,
Linda Nicholls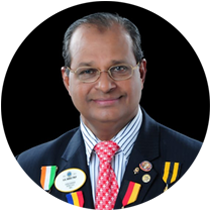 Lion A K Abbas PMJF , Everyday Hero
Lions Governor 2013-14,District 318 A, Lions Club International
Appreciate the expertise, attitude and service of Dr. Praveen, Dr. Anoop, Dr. Prameela, Ortho doctor's: Dr.Anoop & Dr. Arun J. ,Ms. Aswathy (Front Office Manager), GRE Ms. Arya & 5th Floor nursing staff, ICCU Staff, Security chief Mr. Jacob, Bindu and Mini of accounts/billing.The support of CAO, Col. Rajeev Mannali is mostly appreciable and thanks to him and the entire SUT team.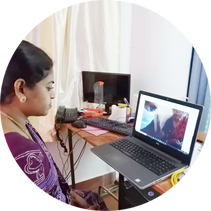 Mr.Satheesh
Assistant Director, EY
I just finished my telemedicine session for my mother and it was a great experience. This is and excellent facility for the old generation who can't travel to the hospital in person. The session was well coordinated and the platform was also very stable.
Our Patient Vijay about the Treatment experience in SUT Hospital, Pattom
Thank you for the wonderful and graceful treatment at SUT for our circumstances. I always cherish your support and care. The staff you have mentored is one of the best in the country and it deserves a huge blessing and prayers for their well being and continued strength to serve humanity. Please visit us at convenience and looking forward to seeing you hear, thank you and prayers as always. Keyur
From Germany with Love | A tête-à-tête with Elena
World Patient Safety Day SUT Pattom Hospital
Back to London with memorable experiences of Care & Cure, BR Life SUT Pattom