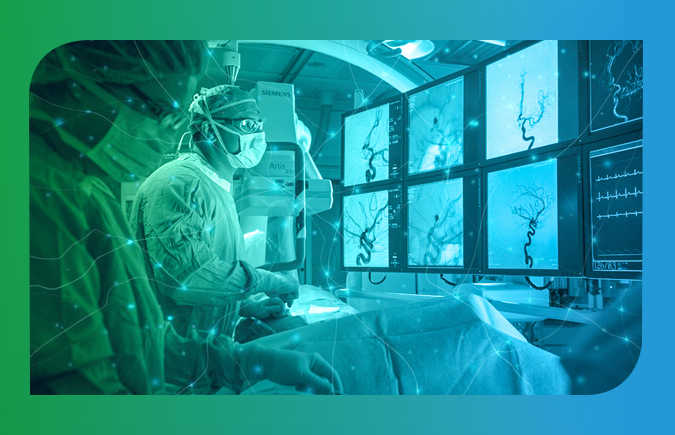 Radiodiagnosis and Interventional Radiology
The Department of Radiodiagnosis & Interventional Radiology at SUT Hospital Pattom is a highly specialized, round-the-clock, full service department that strives to meet all patient and clinician needs in Diagnostic Imaging and Image guided therapies.
There is a dedicated team comprising of radiologists, radiographers, nurses and allied health team who are well-trained in all aspects of radiology and radiography. The team works closely with other clinical departments within the hospital to provide a seamless pathway of care for patients.
The department is recognized for providing patients and clinicians, the most advanced radiology and medical imaging services. It caters not only to patients from within the hospital but also to those from other medical centers across the state.
The Department of Radiodiagnosis & Interventional Radiology at SUT Hospital Pattom has always been at the forefront in adopting latest imaging technology. It has been a center of diagnostic excellence over the last two and a half decades. The Department has a list of firsts to its credit. First 2D Grey scale Ultrasound machine and first Digital Subtraction Angiography (DSA) in southern India were installed in 1987. The department also has the distinction of acquiring first color Doppler system in the private sector. Under the chairmanship of Dr.B.R Shetty, the hospital has entered an era of modernization with installation of new state-of-the-art machines.
The department is equipped with
Digital Radiography.
Image Intensifier Fluoroscopy unit for barium studies and guided procedures.
CR Mammography Unit.
High Resolution Ultrasound Scanner with Color Doppler Imaging.
128 slice Multidetector Computed tomography.
1.5 Tesla 16 channel High Field strength MRI.
Cath lab with DSA facility for Angiography and Interventions.
Latest digital picture archiving and Information Management Systems (PACS) for effective communication and archiving of the patient data.
Our Facilities:
Digital Radiography
Replacing conventional radiography for reducing patient radiation dose, and for giving excellent diagnostic quality / images, the department is equipped with a high resolution fixed digital X–Ray unit and two mobile X-ray units for emergency bedside radiography. In addition to routine conventional radiographs, we perform various fluoroscopic procedures with great skill and accuracy. Special investigations like Intravenous pyelogram (IVP), Micturating cystourethrogram (MCU), Retrograde Urethrography (RGU), Upper & Lower GI Barium studies are being performed here.
Mammography
Screening and Diagnostic Mammography- for early detection of breast cancer.
Ultrasound and Color Doppler Imaging
Philips Epiq 7 Ultrasound scanner with nSIGHT Imaging technology, x MATRIX for 2D/ 3D/4D scans & live MPR for fetal imaging, shear wave elastography for liver fibrosis assessment etc offers utmost accuracy in diagnosis. Advanced color Doppler facility provides study of carotid, peripheral vessels, abdominal and renal vessels
Multislice CT Scanner
PHILIPS INGENUITY CORE 128 MDCT scanner offers high quality CT Angiography, non invasive Coronary Angiography, CT Endoscopy, Bronchoscopy, HRCT Lungs, Temporal bone, Body imaging etc. It has iDOSE technology to reduce noise and artifacts and OMAR to reduce metal artifacts
High Field Strength 1.5 Tesla MRI
16 channel 1.5 T MRI scanner ensures faster speed, particularly in geriatric, pediatric and trauma patients. Routine brain, Spine, Body, Musculoskeletal imaging, MRA, MRV, Diffusion Imaging for stroke detection, Perfusion Imaging, CSF Flow Studies, MR Spectroscopy for tumor evaluation, Epilepsy imaging, Fiber Tractography, Sleep Imaging, non contrast and contrast Angiography, MRCP for non invasive imaging of Hepatobiliary system, Fistulography, Sports Imaging, Breast MRI and so on can be acquired with greater resolution and speed than any other comparable systems.
Digital Subtraction Angiography (DSA)
The highly sophisticated equipment provides crystal clear images of abdominal, renal, cerebral and peripheral blood vessels
Interventional Radiology
Image Guided percutaneous FNA, Biopsies and aspirations.
Percutaneous catheter drainage of abscess / fluid collections.
Embolisation of arterio-venous fistulas.
Image Guided therapeutic joint injections.
Hepatic Interventions like Biliary drainage procedures (PTBD)
Radio Frequency Ablation of Liver tumors.
DSA with stenting / thrombolysis.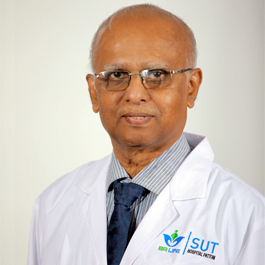 Dr M Balakrishnan
Radiodiagnosis and Interventional Radiology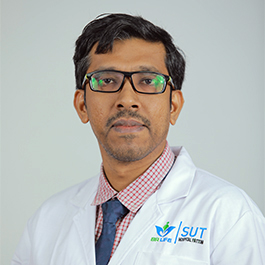 Dr Harikrishnan U S
Radiodiagnosis and Interventional Radiology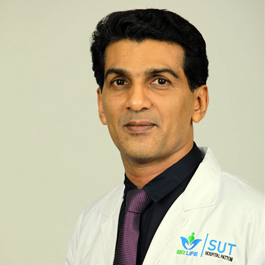 Dr Arun Mohan M
Radiodiagnosis and Interventional Radiology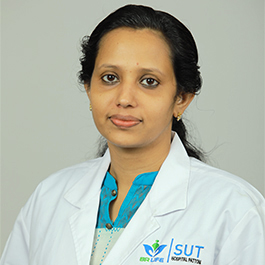 Dr Manju Annie Rajan
Radiodiagnosis and Interventional Radiology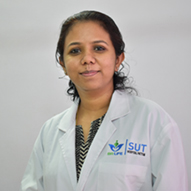 Dr. Nitya Puthiyedath
Radiodiagnosis and Interventional Radiology