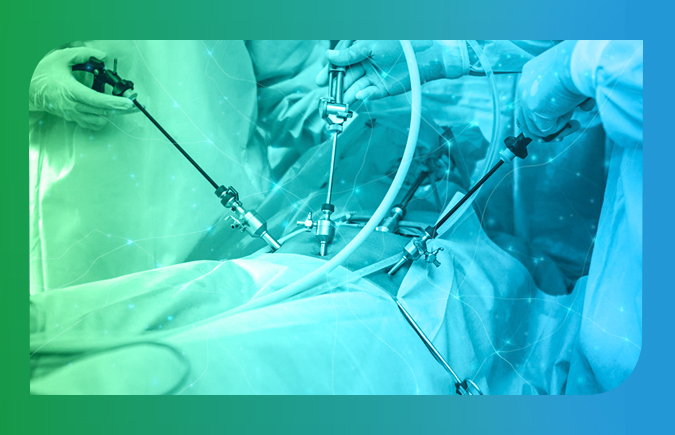 Surgical Gastroenterology
The department of GI, HPB and Bariatric surgery at BR Life SUT Pattom provides world-class treatment for all complex GI surgical problems. It is one of the few centers in India which offers keyhole surgery for all sorts of GI cancers that include cancers of food pipe, stomach, liver, gallbladder, bile duct, pancreas, spleen, small & large bowel and rectum.
It is also one of the few centers in India with expertise in surgeries like laparoscopic whipple resection, thoracoscopic oesophagectomy and stoma-free rectal cancer surgery.
The department is headed by Dr. Subhash R. Apart from keyhole surgeries for cancer, the department provides facilities for treatment of gallstones, pancreatic stones, heart burns, achalasia cardia, ulcers, rectal prolapse, benign tumors, etc. The department also provides comprehensive training in basic and advanced laparoscopy to surgeons across the country and from abroad. It is a well-reputed centre for laparoscopic training for GI cancers.
The department is one of the most sought-after centers for training in laparoscopic nephrectomy, laparoscopic hysterectomy and gynaecology related surgeries. The Bariatric and Metabolic division of the department provides weight reduction strategies, surgical control of Type II Diabetes Mellitus and other metabolic disorders.
The endoscopy division of the department provides all diagnostic and therapeutic endoscopic procedures including ERCP and Endoluminal stenting for strictures and cancers.
Surgical Procedures offered are
UPPER GI
Minimally Invasive Oesophagectomy (Thoracoscopic/ IVOR-LEWIS/Trans-Hiatal)
Laparoscopic Fundoplication (Nissen/ Dor/ Toupet/ Re-do)
Laparoscopic Heller's Cardiomyotomy
Laparoscopic Hiatal Hernia Repair with Cruroplasty
Laparoscopic Oesophago-Coloplasty
GASTROINTESTINAL
Laparoscopic Appendicectomy
Laparoscopic Duodenal Perforation closure
Laparoscopic Total/ Subtotal Gastrectomy with D2 Lymphadenectomy
Laparoscopic Small Bowel Resection Anastomosis
Laparoscopic Pyloroplasty
BARIATRIC
Laparoscopic Sleeve Gastrectomy
Laparoscopic Mini Gastric Bypass (MGB)
Laparoscopic Redo MGB
Laparoscopic Gastric Banding
Laparoscopic Diverted Ileal Interposition
LOWER GI
Laparoscopic Total Proctocolectomy with Ileal Pouch Anal Anastomosis (IPAA)
Laparoscopic Anterior Resection (LOW/ULTRA-LOW/INTER-SPHINCTERIC)
Laparoscopic Hemicolectomy (Right/ Left)- Extended Hemicolectomy
Transverse Colectomy / Sigmoid Colectomy
Laparoscopic Hartmann's Reversal
Stapler Haemorrhoidectomy, MIPH
Laparoscopic Rectopexy (MESH/SUTURE/ RESECTION)
ORGAN SPECIFIC
Laparoscopic Splenectomy
Laparoscopic Nephrectomy
Laparoscopic Adrenalectomy
GYNAECOLOGY
Laparoscopic Ovarian Cystectomy
Laparoscopic Oophorectomy
Total Laparoscopic Hysterectomy
Laparoscopic Ectopic Pregnancy removal
Laparoscopic Colpopexy
HEPATO BILIARY
Laparoscopic Cholecystectomy / Radical Cholecystectomy
Choledocho-duodenostomy / Cholecysto-jejunostomy
Laparoscopic CBD Exploration
Laparoscopic Choledochal Cyst Excision
Laparoscopic Hepatico-jejunostomy / Re-Do HJ
Laparoscopic Liver Resection (Major/ Minor/ Segmentectomy)
PANCREAS
Laparoscopic WHIPPLE'S procedure
Laparoscopic Distal Pancreatectomy
Laparoscopic Spleen preserving Pancreatectomy
Laparoscopic Pancreatico-jejunostomy
ABDOMINAL WALL & HERNIA
Diagnostic Laparoscopy
Laparoscopic Diaphragmatic Hernioplasty
Laparoscopic Inguinal Hernioplasty (TAPP/ TEP/ e-TEP)
Laparoscopic Ventral Hernioplasty (IPOM/ TAR/ e-TEP-TAR)
Laparoscopic INCISIONAL/ SPIGELIAN/ MORGAGNIAN/ LUMBAR Hernioplasty
Endoscopic Procedures offered
Endoscopic Variceal Ligation
Endoscopic Sclerotherapy
Endoscopic Glue Injection
Endoscopic APC
Endoscopic Mucosal and Sub mucosal Resection
Endoscopic Polypectomy
Endoscopic Luminal Stenting
Endoscopic Biliary Stenting
Endoscopic Foreign Body Retrieval
PEG (Percutaneous Endoscopic Gastrostomy)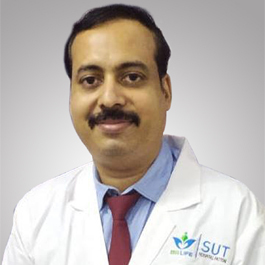 Dr Subhash R
Surgical Gastroenterology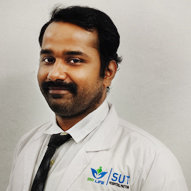 Dr. Mathews James
Surgical Gastroenterology